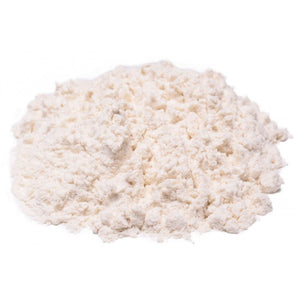 Guar Gum is a natural thickener and can be used in natural dyeing.
It is used to make emulsions, for marbling colors and to thicken water-based paint. Made from the ground endosperm of guar beans. 

"Guar gum is a polysaccharide composed of the sugars galactose and mannose. Guar gum is more soluble than locust bean gum and is a better emulsifier. Unlike locust bean gum, it is not self-gelling. However, either borax or calcium can cross-link guar gum, causing it to gel. In water it is nonionic and hydrocolloidal. It is not affected by ionic strength or pH, but will degrade at pH extremes. It remains stable in solution over the pH range of 5-7. Strong acids and alkalies can reduce its viscosity in solution.

Guar gum shows high low-shear viscosity but is strongly shear-thinning. It is very thixotropic above 1% concentration, but below 0.3% its thixotropy is slight. It has much greater low-shear viscosity than that of other hydrocolloid gums. Guar gum shows viscosity synergy with xanthan gum. Guar gum and casein mixtures can be slightly thixotropic.

Guar gum has almost 8 times the water-thickening potency of cornstarch - only a very small quantity is needed for producing sufficient viscosity. Thus it is used effectively as an emulsifier because it helps to prevent oil droplets from coalescing, and as a stabilizer because it helps to prevent solid particles from settling." Natualpigments.com
Choosing a selection results in a full page refresh.
Press the space key then arrow keys to make a selection.